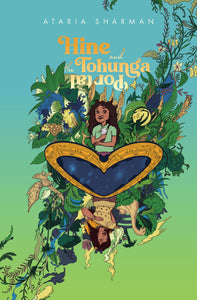 Hine and the Tohunga Portal by Ataria Sharman
If only Hohepa hadn't sung so loudly
If only Hine hadn't got angry with him
If only Hohepa hadn't run off
Maybe then the no-eyes wouldnt have snatched him.
Hopeha is taken through a portal into a place where there are gods, fairy people and tribes of birds. The evil sorcerer Kae has built an army of cursed animals, and he is fighting to rule this world. And Hohepa is part of his plan. This throws Hine into an adventure to rescue her brother, break the curse and save this world from destruction.
Ataria Rangipikitia Sharman (Tapuika, Ngāpuhi) is a writer of essays, poetry and articles. She is the Editor at The Pantograph Punch and creator of Awa Wahine. Ataria has a Master of Arts in Māori Studies and spent a year researching mana wahine and atua wāhine as well as interviewing Māori women about their experiences with atua wāhine. The manuscript for her children's fiction novel Hine and the Tounga Portal was one of five selected for Te Papa Tupu in 2018. She has self-published a collection of writings by wahine Maori on the atua wahine and has a printed magazine for Awa Wahine coming out soon.
Product Details:
Pages: 280
Format: Softback
Language: English
Publication Date: 31 Aug 2021