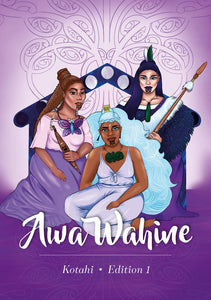 Pre-orders only. The first issue of the semi-annual (twice a year) printed magazine will be sent out on Friday 18 February.
Kotahi features writings by Nicole Tithuia Hawkins, Ariana Tikao, Ruby Solly, Ataria Sharman, Moana Murray, Cat Ruka, Bella Waru, Irihipeti Waretini, Rimu Bhooi, Tayla Farquhar, Arpége Taratoa, Caroline Barron and Melissa Marie.
Edited by Ataria Sharman, copyedited by Cassie Hart and cover art by Tayla Hartemink.